BANGLADESH JOURNAL OF BOTANY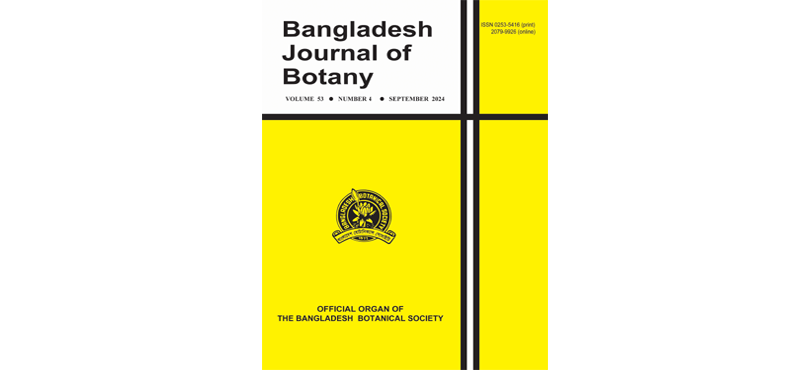 BANGLADESH BOTANICAL SOCIETY
Bangladesh Botanical Society was established in 1972. Professor Dr. Md. Abul Bashar is the present President and Professor Dr. Ashfaque Ahmed is the current Secretary General of the society. The total number of members is over 2975 of which 541 are life members. The society is regularly publishing popular articles in one issue of Bengali journal named "Udvid Barta" and scientific articles in four issues of Bangladesh Journal of Botany.
BANGLADESH JOURNAL OF BOTANY
(Bangladesh J. Bot.)
Vol. 40
No. 2
2011 December
Content
Article
Mihir Lal Saha, Tahmina Bari, Mahbubar Rahman Khan and Sirajul Hoque
bacteriological and physico-chemical properties of the gulshan lake, dhaka
Sujit C Das and M Atiqur Rahman
Taxonomic revision of the genus <i>Morinda</i> L. (Rubiaceae) in Bangladesh
Jumaat H. Adam, Liow Kah Ming, Mohd Afiq Aizat Juhari, Masdahila Ahmad Jalaludin, Wan Mohd Radzi Idris, Abd Rahim Othman and Siti Norhafizah Ahmad Tarmidzi
Cluster analysis of submontane forest along western slope of Frasers hill research centre in Raub district, Malaysia
MMA Mondal, MSA Fakir, M Nurul Islam and MA Samad
physiology of seed yield in mungbean: growth and dry matter production
Eman M Fawzi and Hossam S Hamdy
Improvement of carboxymethyl cellulase production from <i>Chaetomium cellulolyticum</i> nrrl 18756 by mutation and optimization of solid state fermentation
M R Islam and S Sikder
Phenology and degree days of rice cultivars under organic culture
Nezahat Kandemir
comparative leaf anatomy of some endemic <i>Crocus</i> L. taxa from turkey
Abdul Aziz and Mashrura Rahman
New record of planktonic diatoms from the Sundarban mangrove forests, Bangladesh
Shakil Uddin Ahmed
Effects of soil water deficit on leaf nitrogen, chlorophylls and SPAD chlorophyll meter reading on growth stages of soybean
Nezahat Kandemir, Ali Çelik and Abdulkadir Sürücü
ecological response of some <i>Iris</i> L. taxa (iridaceae) in turkey
Short Communications
Kk Paul, Ma Bari and Sc Debnath
Genetic variability of Colocasia esculenta (L.) Schott.
Mk Pasha and Mohammad Sohrab Hossain
Airborne bio-particulate objects at Chittagong University Campus
Md Maniruzzaman Khandaker, Abul Khair and Md Khurshed Alam Bhuiyan
Disease reaction of potato germplasms and true potato seeds against <i>Rhizoctonia solani</i> Kuhn
Ashfaque Ahmed, Abdul Aziz, Azm Nowsher Ali Khan, Mohammad Nurul Islam, Kazi Farhed Iqubal, Nazma and Md Shafiqul Islam
Tree diversity as affected by salinity in the Sundarban mangrove forests, Bangladesh
The Society gratefully acknowledges the financial support received from the Ministry of Science and Technology, Government of the People's Republic of Bangladesh and the University of Dhaka towards the publication of this Journal.