BANGLADESH JOURNAL OF BOTANY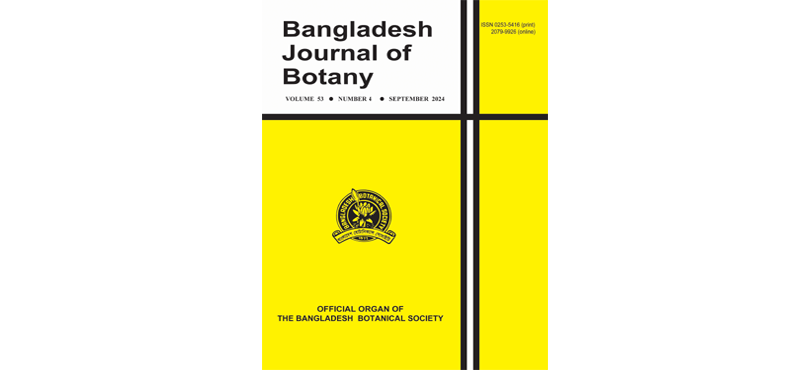 BANGLADESH BOTANICAL SOCIETY
Bangladesh Botanical Society was established in 1972. Professor Dr. Md. Abul Bashar is the present President and Professor Dr. Ashfaque Ahmed is the current Secretary General of the society. The total number of members is over 2975 of which 541 are life members. The society is regularly publishing popular articles in one issue of Bengali journal named "Udvid Barta" and scientific articles in four issues of Bangladesh Journal of Botany.
BANGLADESH JOURNAL OF BOTANY
(Bangladesh J. Bot.)
Content
Article
LÃœTFI PIRLAK AND MUHARREM GÃœLERYÃœZ
DETERMINATION OF POLLEN QUALITY AND QUANTITY IN CORNELIAN CHERRY (CORNUS MASS L.)
A.N.M. ALAMGIR AND MOMTAZ AHAMED
GROWTH AND PHYTOCHEMICAL INVESTIGATION OF RAUVOLFIA SERPENTINA BENTH. PROPAGULE
MD. ENAMUL HOQUE AND JOHN W. MANSFIELD
A SIMPLE AND RELIABLE METHOD FOR PATHOGENICITY TESTS OF BACTERIAL BLIGHT DISEASE OF RICE
SHEIKH SHAMIMUL ALAM1 AND NAHIMA KHANAM
FLUORESCENT KARYOTYPE ANALYSIS OF FOUR ALOE SPECIES
S. BEGUM AND N.K. PAUL
GROWTH ANALYSIS OF CASSAVA (MANIHOT ESCULENTA CRANTZ) VARIETIES IN RELATION TO TIME OF PLANTING
M.Z. ALAM, S.A. HAIDER AND N.K. PAUL
EFFECTS OF SOWING TIME AND NITROGEN FERTILIZER ON BARLEY (HORDEUM VULGARE L.)
Rabeya Begum and Sheikh Shamimul Alam
Karyotype analysis of seven orchid species from Bangladesh
Short Communications
Syed Hadiuzzaman and Moniruzzaman Khondker
<i>Salvinia molesta</i> Mitch. (Salviniaceae)- a free floating fern-allies new to Bangladesh.
Moniruzzaman Khondker and Md. Almujaddade Alfasane
Euglenamorpha hegneri Wenrich (Euglenaceae): a rare Euglenoid from Bangladesh
Khurshida Banu - Fattah
Distichophyllum schmidtii Broth. (Hookeriaceae) - a new report from Bangladesh
Hosne Ara, Pavel Partha and Md. Abul Hassan
Aglaonema modestum Schott ex Engler (Araceae) – a new angiospermic record for Bangladesh
Mohammed Yusuf and Jasim Uddin Chowdhury
Essential oil from leaves, spikes and seeds of Perilla ocimoides L
M. Zakir Hussain, M. A. Rahman and M. A. Bashar
Screening of brinjal accessions for bacterial wilt caused by Ralstonia solanacearum
The Society gratefully acknowledges the financial support received from the Ministry of Science and Technology, Government of the People's Republic of Bangladesh and the University of Dhaka towards the publication of this Journal.