BANGLADESH JOURNAL OF BOTANY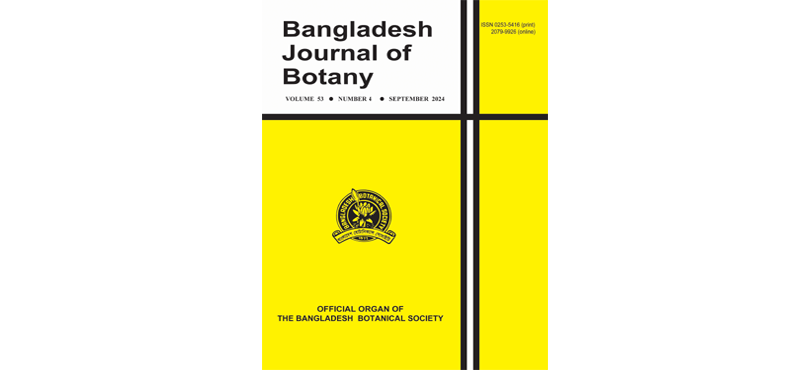 BANGLADESH BOTANICAL SOCIETY
Bangladesh Botanical Society was established in 1972. Professor Dr. Md. Abul Bashar is the present President and Professor Dr. Ashfaque Ahmed is the current Secretary General of the society. The total number of members is over 2975 of which 541 are life members. The society is regularly publishing popular articles in one issue of Bengali journal named "Udvid Barta" and scientific articles in four issues of Bangladesh Journal of Botany.
BANGLADESH JOURNAL OF BOTANY
(Bangladesh J. Bot.)
Vol. 34
No. 2
2005 December
Content
Article
S.K. Bhadra and T.K. Bhowmik
Axenic germination of seeds and rhizome-based micropropagation of an orchid Arundina graminifolia (D. Don.) Hochr.
S.M. Imamul Huq, J.C. Joardar and S. Parvin
Marigold (Tagetes patula) and ornamental arum (Syngonia sp.) as phytoremediators for arsenic in pot soil.
Shahryar Saeidi-Mehrvarz
Distribution pattern of the genus Veronica L. in Iran.
A.N.M. Fakhruddin and H. Rashid
Comparison of methods for the measurement of growth of floc forming Pseudomonas putida CP1 on mono-chlorophenols.
Kamil Coskuncelebi, Huseyin Inceer and Osman Beyazoglu
Karyotypic variations in Lilium spp.
Nesrin Yildiz
- Effects of Pb levels on growth and mineral contents of different corn cultivars grown in nutrient culture.
Canan Ozdemir and Yasin Altan
Morphological and anatomical characteristics of endemic Salvia huberi Hedge in Turkey.
Shakila Nargis Khan and Paul F.G. Sims
Molecular characterization of two endo-1,4-b-xylanase genes from Phanerochaete chrysosporium.
Abdul Aziz
- Brackish water algae from Bangladesh. I. Biddulphia spp.
Hosne Ara, Pavel Partha and Md. Abul Hassan
New records of three aroids from Bangladesh.
Short Communications
Khurshida Banu-Fattah
Funaria hygrometrica Hedw. (Funariaceae) from Bangladesh.
F. Ali, B. Sikdar, A.K. Roy and O.I. Joarder
Correlation and genetic variation of twenty different genotypes of lablab bean (Lablab perpureus L.)
M.A.K. Mian, K.U. Ahammad, M.H. Hossain and M.A. Hossain
Screening of potato genotypes for salinity tolerance.
The Society gratefully acknowledges the financial support received from the Ministry of Science and Technology, Government of the People's Republic of Bangladesh and the University of Dhaka towards the publication of this Journal.