BANGLADESH JOURNAL OF BOTANY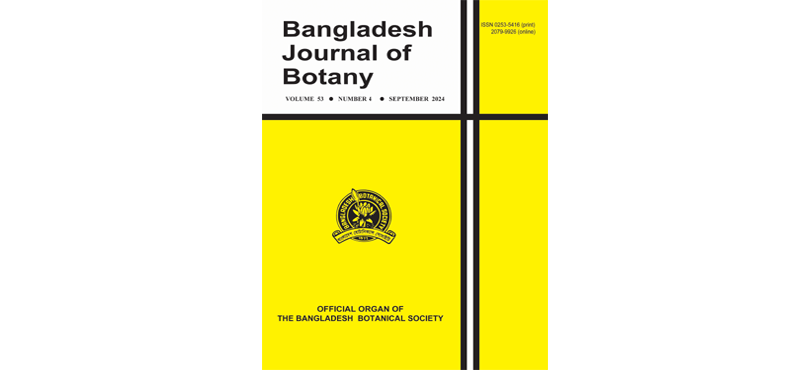 BANGLADESH BOTANICAL SOCIETY
Bangladesh Botanical Society was established in 1972. Professor Dr. Md. Abul Bashar is the present President and Professor Dr. Ashfaque Ahmed is the current Secretary General of the society. The total number of members is over 2975 of which 541 are life members. The society is regularly publishing popular articles in one issue of Bengali journal named "Udvid Barta" and scientific articles in four issues of Bangladesh Journal of Botany.
BANGLADESH JOURNAL OF BOTANY
(Bangladesh J. Bot.)
Content
Article
M. K. Rahman, S. M. Kabir, G. M. Mohsin and M. Didarul Alam
Interaction of arbuscular mycorrhizal fungus Glomus mosseae and phosphorus on growth and nutrient uptake of maize plants grown under different soil conditions.
Ayreen Akter Hossain, M. A. Halim, Feroza Hossain and M. A. Meher Niger
Effects of NaCl salinity on some physiological characters of wheat (<i>Triticum aestivum</i> L.).
Mehmet Aycicek and Telat Yildirim
Heritability of yield and some yield components in bread wheat (<i>Triticum aestivum</i> L. ) genotypes.
Khurshida Banu-Fattah and Syed Hadiuzzaman
Acrocarpous mosses of Bangladesh. xi. family: Bartramiaceae-1.
Tabassum Mumtaz, Husna Parvin Nur and M. R Khan
Susceptibility of low density polyethylene films to pond water microflora.
Md. Fazlul Karim, Quazi Abdul Fattah and A. B. M. Khaleduzzaman
Changes in biocomponents of chickpea (<i>Cicer arietinum</i> L.) sprayed with potassium naphthenate and naphthalene acetic acid.
Zeki Mut, Ä°lknur Ayn and Hanife Mut
Evaluation of forage yield and quality at two phenological stages of triticale genotypes and other cereals grown under rainfed conditions.
A. Bhattacharjee, U. K. Kanp, D. Chakrabarti and C. K. Pati
Technique for storage longevity of mung bean and sunflower seeds using sodium dikegulac and <i>Eucalyptus</i> oil.
R. N. Bhattacharyya
Effects of heavy metals on growth and indole acetic acid production by <i>Rhizobium</i> sp.
Ramazan Dogan, Mevlut Turk and Hulya Gul
Evaluation of agronomical and biochemical characteristics of new lines of <i>Triticum durum</i> Desf. in Turkey.
Pelin Baran and Canan Özdemir
The morphological and anatomical characters of <i>Salvia napifolia</i> Jacq. in Turkey.
Short Communications
Pradeep Parihar, Leena Parihar and A. Bohra
Antibacterial activity of extracts of <i>Pinus roxburghii</i> Sarg.
Md. Maniruzzaman Khandaker, Md. Khurshed Alam Bhuiyan and Abul Khair
Prevalence of stem canker and black scurf disease of potato in Bangladesh.
The Society gratefully acknowledges the financial support received from the Ministry of Science and Technology, Government of the People's Republic of Bangladesh and the University of Dhaka towards the publication of this Journal.