BANGLADESH JOURNAL OF BOTANY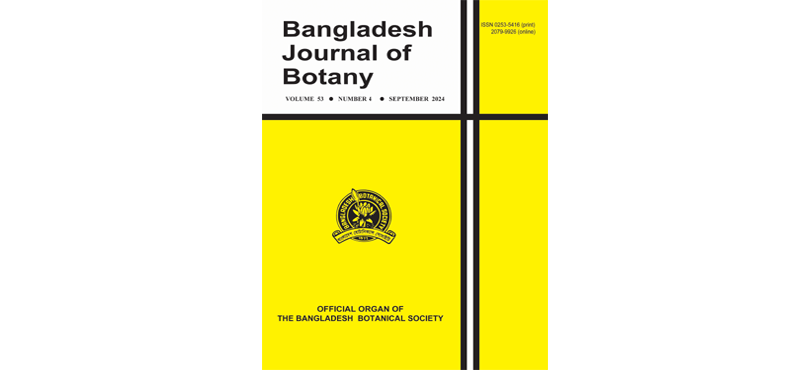 BANGLADESH BOTANICAL SOCIETY
Bangladesh Botanical Society was established in 1972. Professor Dr. Md. Abul Bashar is the present President and Professor Dr. Ashfaque Ahmed is the current Secretary General of the society. The total number of members is over 2975 of which 541 are life members. The society is regularly publishing popular articles in one issue of Bengali journal named "Udvid Barta" and scientific articles in four issues of Bangladesh Journal of Botany.
BANGLADESH JOURNAL OF BOTANY
(Bangladesh J. Bot.)
Content
Article
Sebahattin Albayrak and Necdet Çamaş
Effects of temperature and light intensity on growth of fodder beet (<i>Beta vulgaris</i> L. var. <i>crassa</i> Mansf.)
Aysen Akay and Nurcan Koleli
Interaction between cadmium and zinc in barley (<i>Hordeum vulgare L.</i>) grown under field conditions
Tui Ray and S. C. Roy
Phylogenetic relationships between members of Amaranthaceae and Chenopodiaceae of lower gangetic plains using RAPD and ISSR markers
Md. Jafar Ullah, Quazi Abdul Fattah and Feroza Hossain
Effect of potassium napthenate on yield attributing characters and seed yield of cowpea cv. Bari falon-1 (<i>Vigna unguiculata</i> (L.) Walp.) grown under early Rabi season
M. K. Islam, M. F. Alam and A. K. M. R. Islam
Growth and yield response of onion (<i>Allium cepa L.</i>) genotypes to different levels of fertilizers
Ali Kemal Ayan, Oguzhan Yanar, Cuneyt Cirak and Mahmut Bilgener
Morphogenetic and diurnal variation of total phenols in some Hypericum species from Turkey during their phenological cycles
Aparna Islam, Afif Hassairi and Vanga S. Reddy
Analysis of molecular and morphological characteristics of plants transformed with antifungal gene
Moniruzzaman Khondker, Rauf Ahmed Bhuiyan, Jenat Yeasmin, Munirul Alam, R. Bradley Sack, Anwar Huq and Rita R. Colwell
New records of phytoplankton for Bangladesh. 2. Cryptophyceae and Synurophyceae
Mahbubar Rahman Khan, Mihir Lal Saha and Tania Hossain
Isolatıon and characterızatıon of ten mycelıal organısms from dıfferent aquatıc habıtats of Dhaka, Bangladesh
Hamida Khatun and Syed Hadiuzzaman
Pleurocarpous mosses of Bangladesh: family - Sematophyllaceae
Short Communications
Abdullah Harun Chowdhury and Roxana Ahmed
<i>Neurymenia fraxinifolia</i> (Mert.) J. Ag. - a new record of a marine red alga for Bangladesh
Teoman Kesercioğlu and İlkay Öztürk Çali
Effects of pyrimethanil on pollen meiosis of tomato plant (<i>Lycopersicon lycopersicum</i> Mill.)
M. A. K. Mian, M. A. Matin and M. A. Hossain
Occurrence of weed species in transplanted aman rice field as affected by cultivar
The Society gratefully acknowledges the financial support received from the Ministry of Science and Technology, Government of the People's Republic of Bangladesh and the University of Dhaka towards the publication of this Journal.